List of Best Fridge Organizer Bins
10. MineDecor Plastic Storage Containers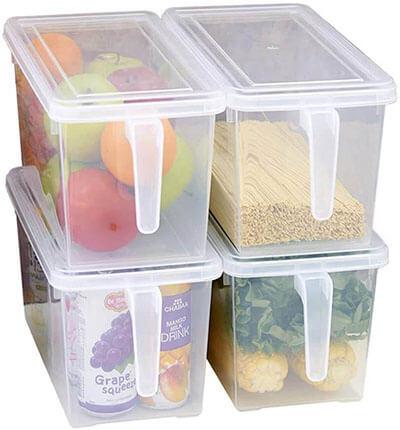 Do you want to effectively utilize your fridge's space? With these MineDecor fridge organizer bins, you can maximize your limited space and store your foods hygienically.  Measuring 12.2 inches x 6.1 inches x 6.3 inches each, these bins allow enough storage for several items.
These transparent bins also feature tight lids for bacteria-free storage of your vulnerable foods. The organizer bins are versatile as you can store staples and pantry supplies such as cookies, soup, rice, sugar, flour, and more.
Multi-purpose design
Durable material
Comfortable handles
Ample size
They aren't dishwasher safe
9. MDesign Plastic Stackable Kitchen Pantry Cabinet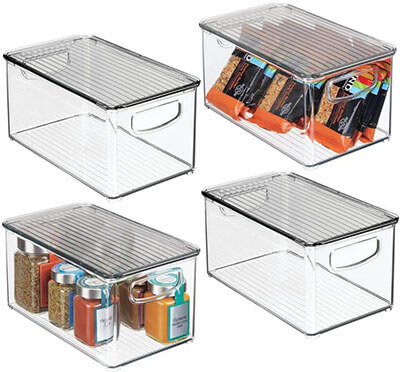 MDesign Stackable Bins rock in the stylish organization of your refrigerator or fridge. These come in various styles and sizes to suit your individual preferences. Thus, you can choose your ideal size for dorms, campers, hostels, and other spaces with small refrigerators.
Also, they are food safe as they feature BPA-free and chlorine-free plastic. Apart from being stackable, the bins boast rotating storage allowing flawless access. Also, these bins are available in different colors, materials, and patterns to suit your preference.
Shatter-resistant plastic
Food grade quality
Convenient access
Comfortable handles
8. Cedilis 3-Pack Plastic Produce Storage Containers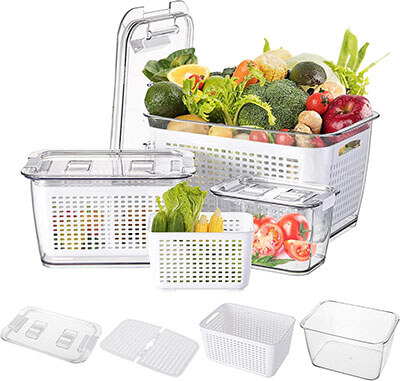 You may have thought that finding the best refrigerator storage bins isn't easy. But Cedilis bins are here to prove you wrong. It comes as three-pack containers and two dividers for the efficient organization of your space. Your produce will stay fresh in these containers thanks to the adjustable ventilation holes.  Besides, they come with a filter basket that separates food from the drops to ensure prolonged freshness.
Ergonomic handles
Food-grade material
Easy organization
Versatile bins
These bins aren't dishwasher safe
7. HERKKA Refrigerator Organizer Bins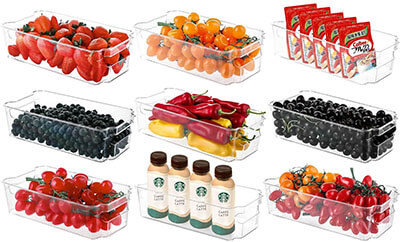 Apart from the rigid shatter-proof plastic materials, Herkka refrigerator bins feature stackable designs. They allow stylish and efficient space organization and are versatile for literally all food items. From canned goods to vegetables, cheese, meat to boxed goods, these organizer bins offer what you need.
Moreover, they are forged from a premium material which makes them durable and easy to clean with soapy water only. Not only are these bins great for fridge use, but they are classic for the countertop, kitchen cabinet, and pantry.
Clear design
Multiple uses
Ideal size
Contoured handles
6. SMARTAKE 2-Pack Soda Can Organizers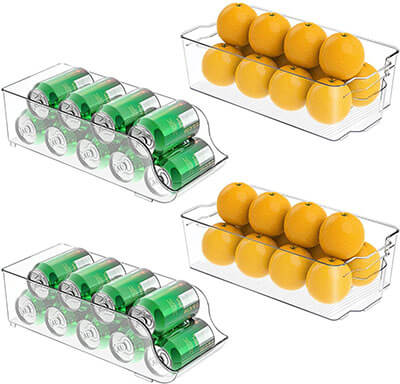 Do you find hassles when arranging fruits and drinks in your refrigerator? Well, the SMARTAKE can organizers are here for you. Durable, shatter-proof and BPA-free plastic are among the aspects to adore about these organizers. They offer more than being soda cans organizers' as you can use them in various places such as playrooms, offices, laundry, and craft rooms.
Also, the bins measure 14 x 5.4 x 4 inches, ensuring perfect storage of foods, drinks, and other items. The clear plastic material makes them stylish and improves the décor of your refrigerator or cabinets.
Stain-proof
Shatter-proof material
Lightweight and easy to handle
Ideal size
These bins aren't dishwasher safe
5. Sorbus Freezer Bins Refrigerator Organizer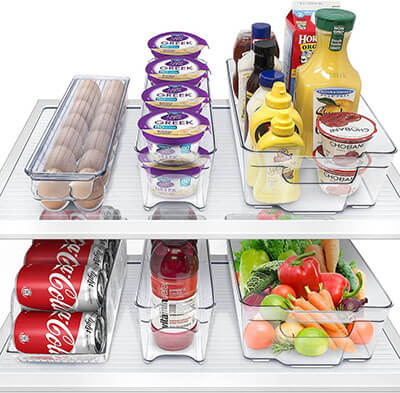 Freezer bins organizer allows clutter-free arrangement and easy access to your food items. One of the best options is the Sorbus Freezer organizer. This set offers several sizes ensuring trouble-free storage of fruits, meat, vegetables, cheese, and even canned foods. The sleek transparent design keeps the cabinet's décor appealing while allowing hassle-free access. This package includes six pieces of different sizes for maximum customization of your storage.
Robust plastic material
Food-grade quality
Clean easily
Appealing design
Not compatible with a dishwasher
4. Totally Kitchen Clear Stackable Storage Bins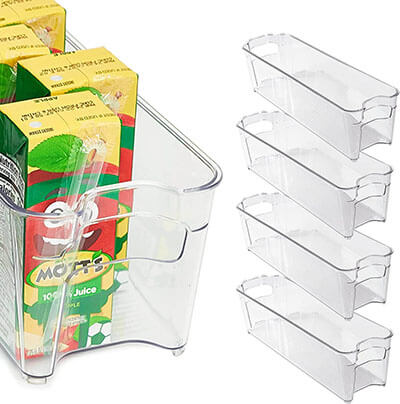 Do you know that every square inch of your pantry or freezer matters? With this in mind, you need the best storage bins, and you'll like what Totally Kitchen offers. These bins feature the perfect size and design to fit in your freezer while allowing customized arrangement. This set of storage bins is versatile for your closet, bathroom, cupboard, and refrigerator. With built-in ergonomic handles, carrying your foodstuff should be easy.  It is a multi-purpose set that can accommodate groceries, meat, drinks, and many more.
Solid material
Attractive pattern
Clear for easy access
Built-in handles
3. HOOJO Refrigerator Organizer Bins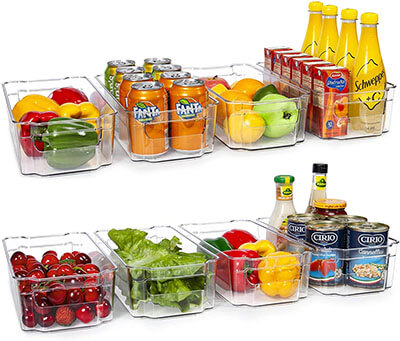 With the best storage bins, you can make your home look awesome and enjoy clutter-free space organization. HOOJO Refrigerator Organizer Bins boasts a professional design that not only allows versatile food storage but also upgrades the glamour of your pantry or refrigerator. The bins are transparent for unobstructed viewing, easy access as well as trouble-free cleaning.
Furthermore, the material looks like glass, but it's very robust to ensure the perfect handling of fruits, groceries, meat, and even heavier items. Besides, the built-in handles make these bins handy for every situation when transporting your kitchen stuff.
Large size
Easy to clean
Contoured handles
Stain-proof material
2. Seseno Set of 10 Refrigerator Organizer Bins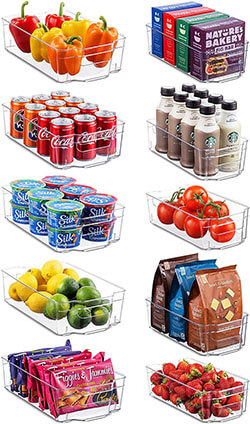 Not everyone likes kitchen work. But the best kitchen bins make everything simple and adorable while keeping the décor appealing.  One of the best options for you is Seseno organizer bins. They feature attractive designs and patterns ideal for the freezer, refrigerator, and pantry.
This set is a multi-purpose option for the safe storage of meat, yogurt, drinks, canned food, food packets, and even dry food.  Moreover, they are easy to handle as they feature non-slip interior textures and ergonomically built-in handles.   This set entails wide and narrower size options for the practical storage of your items.
Easy washing
Great size options
Handy design
Warp-proof material
1. HOOJO Fridge Organizer Bins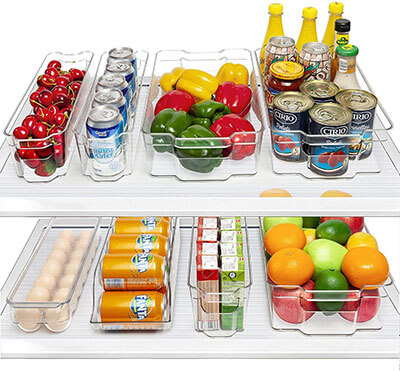 With an excellent grouping of food items in your pantry or freezer, you will enjoy kitchen operations like never before. Here are Hoojo organizer bins that allow stylish arrangement and dispensing of foodstuff. They feature a clear design for comfortable access and dispensing of your items. With this ergonomically designed organizer bin, your jars and bottles won't get lost inside the kitchen cabinets or freezer.
Also, with four different dimensions in this set, you can store each type of foodstuff at the right place for easy access. It entails wide bins, narrow ones, and one can holder, as well as one egg holder featuring a stylish lid.
Stylish design
Versatile customization
Cleans easily
Multi-purpose set