10. Ultrean Air Fryer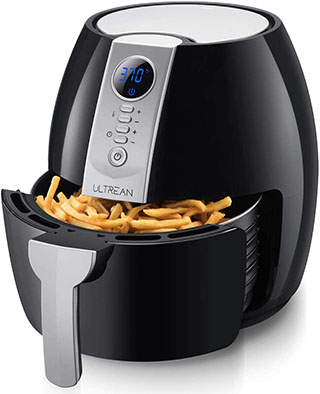 The Ultrean 4.2-quart model is a great kitchen appliance that comes in 4 different colors. We rank it as the best air fryer on the market this year because of its unique features and pocket-friendly price. This sleek model boasts advanced rapid air technology and scratch-free modern design. The top-rated air fryer equally boasts accessible buttons, an LCD, and an adjustable timer and temperature.
User-friendly design
Sleek design
Available in different colors
Bigger than other models within the price range
Detachable cooking pot
Easy to use and clean
Button sounds sometimes can be irritating
Can take time if you want to cook several items at a time
9. Philips Air Fryer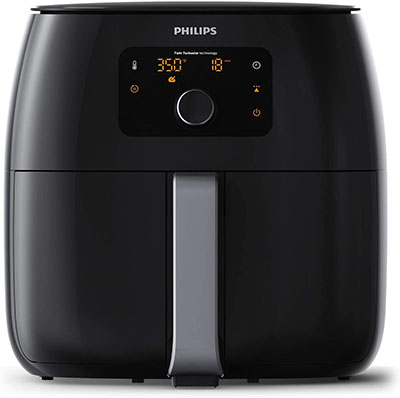 Philips air fryer models stand out from their competition because of their durability. The HD9650/96 model is no exception. We have included it in our top ten list because aside from durability, this air fryer boasts fat removal technology that captures excess fat. The features rank it among the healthiest models to use when cooking. Aside from frying, this model also bakes, grills, toasts, and roasts making it a useful multi-purpose kitchen appliance to buy. If you're looking for the best-rated air fryer that we recommend checking out this model.
The healthiest way to cook with little oil
Large capacity
Gets hot instantly
Allows multiple uses
Easy to clean
8. COSORI XL Air Fryer Max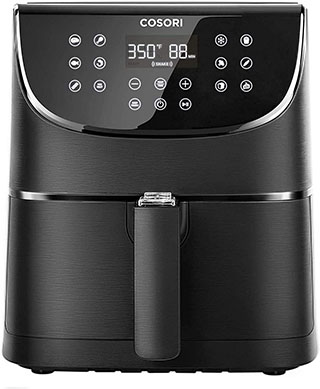 The Cosori model is a 5.8-quart large-capacity air fryer that comes in 3 different colors. This spacious model fits a whole 5-pound chicken while leaving enough space for cooking. If you're looking for the best air fryer for family of 4, then this is a model to consider. It comes with 13 cooking functions and rapid 360 degrees of air circulation for the best results. When it comes to its overall design, this model boasts a sleek modern design with removable non-stick baskets for easy cleaning.
Large capacity
Looks stylish and modern
Removable baskets that are dishwasher safe
Comes with a shake reminder function
The temperature and time setting share one button
The settings go back to default any time you turn it on
7. Chefman Digital Power Air Fryer Oven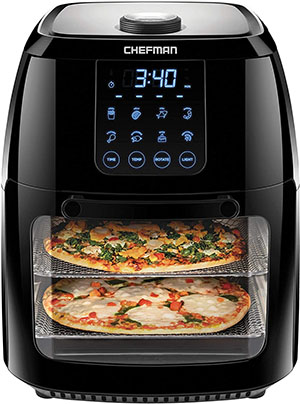 If you're looking for the best budget air fryer, then this is a model to consider. This top-rated air fryer sells under $100 which is perfect for anyone on a budget. The spacious 6.3-quart unit lets you make enough food for the whole family. Don't worry about the extra guests, this model is designed to cater to everyone. We recommend the Chefman Digital Air Fryer because of its large capacity. The user-friendly digital touchscreen and dishwasher safe parts are additional features that make us prefer this model over others within this price range.
Large capacity
Versatile
Easy to use touchscreen display
Interior lighting lets you watch food as you cook
Removable dishwasher safe parts
Comes with convenient accessories
The cookbook is not comprehensive
Available in one color
6. Innsky Air Fryer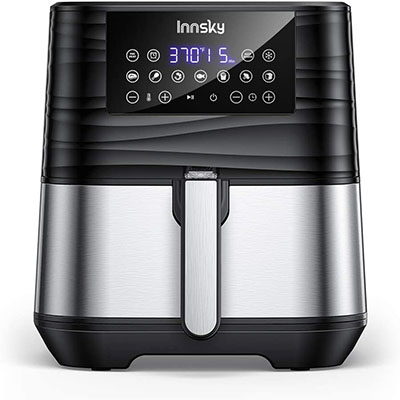 This upgraded model is the best-rated air fryer that packs features you'd only find in high-end models. The 5.8-quart air fryer boasts an advanced digital touch screen with 7 preset modes. The time and temperature settings are precise for the best results. This upgraded 201 model also comes with 4 new functions: timer, thaw, preheat, and keep warm. Its sleek design equally makes it stand out from the competition.
The detachable basket is dishwasher safe
Durable design
Easy-to-use digital screen
Versatile model
Has an alarm and keep warm function
Affordable
5. Chefman TurboFry Air Fryer Oven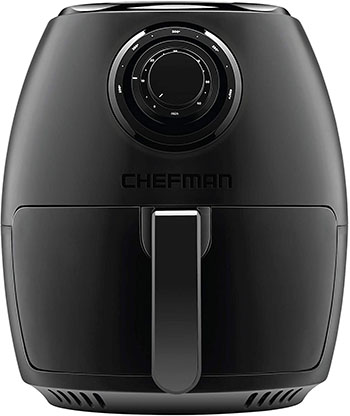 While this model is not as large as the other models we have reviewed, the TurboFry still ranks as the best air fryer to those with limited space. The model has a sleek round shape that is compact enough to place on your countertop or store in small spaces. Besides, it is quite stylish and the matte black finish gives it a sophisticated look. The TurboFry has a 3.6-quart capacity. It is equally easy to clean.
Auto shut off feature
Space-saving
Dishwasher safe parts
Convenient accessories included
Easy to clean
Not ideal for large families
4. GoWiseUSA Air Fryer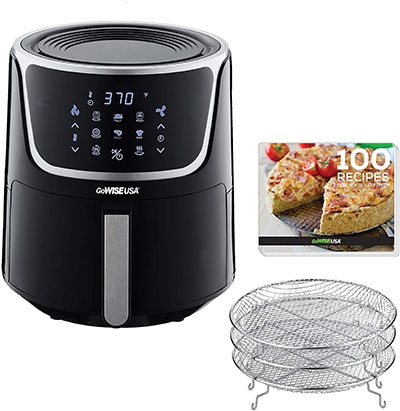 The GoWise model comes in 3 different sizes and 4 different colors. We were particularly thrilled with this model because of its large capacity. This black and silver is a 7-quart large capacity model that lets you cook enough meals for the whole family. It boasts 8 cooking functions on the easy-to-use full touchscreen. Additional features like the built-in dehydrate feature and the 3 stackable racks equally make it stand out from the competition.
Large capacity
Intuitive touchscreen
High power heating
Affordable
Different colors available
Easy to clean
Not as durable as we'd hoped
3. NUWAVE BRIO Digital Air Fryer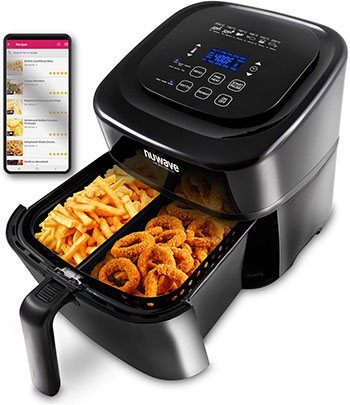 The Nuwave Brio is a 6-in-1 digital air fryer that equally ranks among our top models this year. It boasts a large 6-quart capacity but is still compact enough to keep in small spaces. If you're looking for the best air fryer 2021, then we recommend that you check out the BRIO model. Ranking among the top 10 models this year, this air fryer allows quick and even cooking of your favorite foods with little to no oil. Useful accessories like the digital temperature probe and the fry pan divider are among the reasons why we love this air fryer.
Large size perfect for families
Comes with 40 customized recipes
The divider basket is perfect for multi-cooking
The removable net makes it super easy to clean
The plastic smell on food is disturbing
2. Ultrean Air Fryer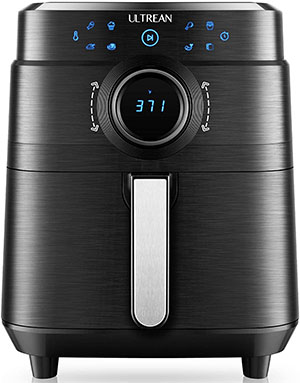 This XL 6-quart power air fryer oven is the best model for large families. If you're looking for the best air fryer for family of 4, this is the perfect model for you because it serves up to 5 people. We love that the touchscreen buttons are quite intuitive. The detachable basket and non-stick grill plate are quite easy to clean. Besides, the matte finish body gives it a nice modern design you'll love this air fryer on your kitchen countertop.
Easy to use and clean
Auto shut off feature
Affordable price
Large size
The digital display not illuminate fully
1. Nuwave Brio Air Fryer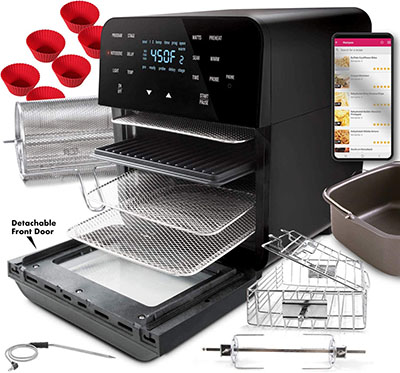 This large-capacity air fryer ranks as the best model on the market within this price range. The model boasts a 15.5qt large size perfect for the whole family. We equally recommend it because it is easy to clean and comes with a removable front door that allows easy access to the chamber. The model comes with 3 cooking racks, a rotisserie kit, an integrated temperature probe, and a drip tray.
Easy to use and clean
Large size
Not as loud as other models
Great value for your money
The door is not as strong as we'd expected